October 18, 2019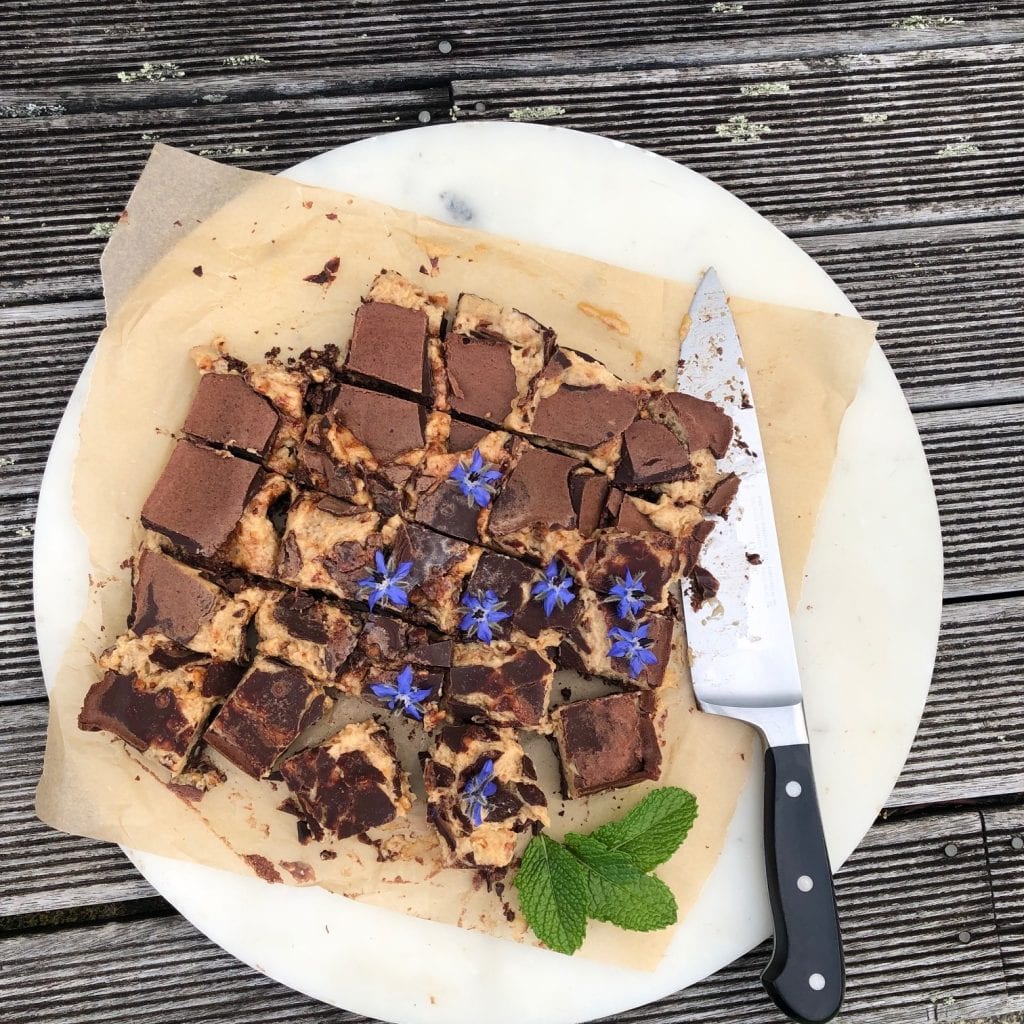 My kids give this recipe the big thumbs up. It's not always easy to please my three boys when it comes to baking – especially the teenager. But all my boys dig this. The secret ingredient is the new 100% natural 1839 Mānuka honey, which is a premium Mānuka honey from New Zealand. This is uniquely triple churned so it is silky smooth and mouth-wateringly delicious. Mānuka honey is well known for its antibacterial, anti-inflammatory, and good health benefits.
Pair this delicious honey with a crunchy peanut butter and, of course, the all-important chocolate top and bottom nutty layers, and it's quite simply heavenly. This slice is nutrient-dense, great for satiety (it fills you up) and of course, yummy. Give it a whirl too and let me know what you think! Good luck with stopping at one piece. I ate three in the first sitting. And people wonder why I run and lift weights… This gal LOVES to eat amazing kai!
Ingredients & Method
Base
1 cup hazelnuts
¼ cup cacao powder
½ cup raw cashew nuts
2 tablespoons 1839 Mānuka honey
Pinch of cinnamon
3 tablespoons coconut oil
pinch Himalayan salt
Middle Layer
1 cup crunchy peanut butter
1 cup coconut cream
pinch Himalayan salt
2 tablespoons of 1839 Mānuka honey
Top Layer
300g cacao butter
¼ cup cacao powder
pinch Himalayan salt
3 tablespoons 1839 Mānuka honey
First layer. Place the nuts in a blender and blitz them until they are fine crumbs. Then add the cinnamon and salt. Next, spoon the coconut oil into a pan on the stove and gently melt it. Once melted, turn off the stove and add the honey and mix with a spoon. Next, put the honey and coconut oil into the nut mix. Use a spoon or your hands to mix well into a wet crumb. Place baking paper into a cake tin. Pour this mixture into the tin and then press it down with your hands. Place the tin into the freezer while you make the 2nd layer.
Second layer. Place the peanut butter and coconut cream into a pan and heat gently while using a spoon to combine these ingredients into a smooth blend. Once blended, turn off the stove and add the salt and honey and stir well. Next, spoon this onto the base layer and then put the this back into the freezer while you make the top layer.
Top layer. Place the cacao butter into a pan and melt slowly on a low heat. Then remove from the stove and add the honey by stirring it in. Next add the cacao powder and salt and stir until silky smooth. Take the slice out of the freezer and then pour this chocolate layer on top. Then place the completed slice back into the freezer for 30-minutes. Remove from the freezer and cut it into slices roughly. Then place all the slice in a container in the freezer. Dip into it whenever you want a piece!
PS I can't promise that your kids will not sneak into the freezer when you are not looking and scoff the lot. Or does that just happen at my place???
This recipe was kindly sponsored by 1839 Mānuka honey. To check out this silky smooth honey click HERE
Blog by Rachel Grunwell: Wellness expert, coach, yoga + mindfulness teacher, and wellness columnist for Good mag, Indulge mag, and the Herald online. Rachel is the author Balance: Food, Health + Happiness which boasts 30 global experts sharing science-based wisdom on how to live healthier and happier + 30 nourishing recipes. Find out more HERE.